As a storytelling agency, we don't just tell stories on behalf of our personal and corporate clients. Telling the story is, after all, only one part of the process of connecting with any audience. Equally important to brand storytelling is discovering the story, zeroing in on its power and crafting tailored stories for specific audiences.
To keep up on our storytelling game, we check in regularly on countless books and blogs. Here are a few of our go-to favourites.
Wired for Story: The Writer's Guide to Using Brain Science to Hook Readers from the Very First Sentence
"If I ask you to think about something, you can decide not to. But if I make you feel something? Now I have your attention." — Lisa Cron, Wired for Story
Author Lisa Cron provides a breakdown of how storytelling works along with some of the science behind why our brains so love and crave story. This book isn't about writing well as much as it is about how writers/creators can feed the addictions of the collective audience's brain. It's this latter understanding that will heighten your copywriting as well as clarify your brand promise.
The Big Takeaway: There are tricks to keeping the reader or viewer transfixed–and they have little to do with exquisite prose.
The Anatomy of Story: 22 Steps to Becoming a Master Storyteller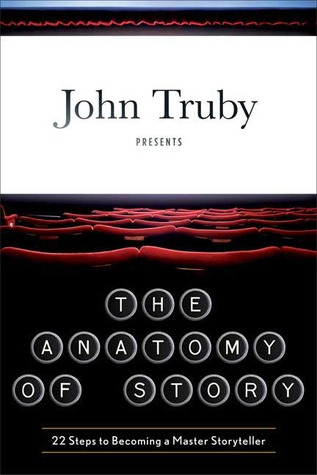 This one covers the storytelling basics. Thoroughly.
As a well-known story consultant in the film industry, author John Truby shares his secrets for writing a powerful script. And even if it's not a script you're producing, he'll teach you, along the way, a highly practical technique for constructing any story.
The Big Takeaway: The techniques for story creation–and for moving an audience–are universal. And learnable.
Buyer Personas
When it comes to brand or business storytelling, you must know and understand your audience first. Buyer Personas is the standard, and starting point, for understanding who your buyer is, what they want, and how they decide. Author Adele Revella will teach you how to conduct buyer studies, how to segment your audience, how to investigate and describe your various customer types, and–to the point here–how to tell stories and messages that will speak to your customers at various stages in their buying journey.
The Big Takeaway: Most marketers have buyer personas but have no idea how to use them. Here's how you can.
StoryBranding: Creating Stand-out Brands Through the Power of Story
Jim Signorelli offers an advertising agency perspective on the power of story, and how to create compelling brand stories that clients–and audiences–immediately 'get.'
Signorelli, a 35-year marketing and advertising veteran, creates the StoryBranding Model to walk readers through the basics of constructing a brand story, from creating the brand as a story character to testing your brand story's resonance.
The Big Takeaway: Scrap your old-school creative briefs and empathize with the audience. Write your story from their perspective.
Winning the Story Wars: Why Those Who Tell (and Live) the Best Stories Will Rule the Future
Winning the Story Wars makes the argument that today's marketers should empower audiences rather than point out their inadequacies.
Author Jonah Sachs spends the book's first half explaining why this should be so, and observing examples where it is. He then shows how to apply his own prescription, providing the reader with the very real case study of his own brand, as he develops a brand story. It's good, compelling and convincing reading.
The Big Takeaway: Thou must not succumbeth to the five deadly sins of storytelling.
Featured image courtesy of Hoary and Wikimedia.